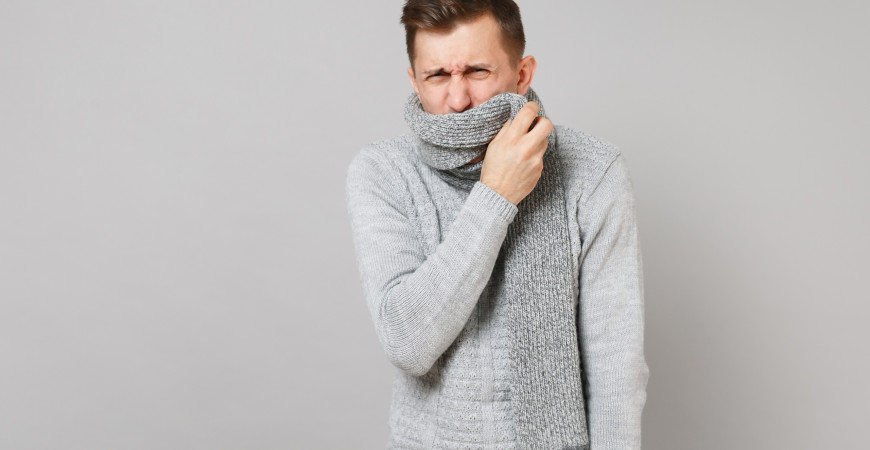 ICELAND MOSS SPRAY ensures direct and quick relief in case of sore throat, hoarseness, and irritating cough. Take a look what the product's users think about the spray!
Agnija, 27 years old- "Thanks to information posted on medicine.lv, I learned about ICELAND MOSS SPRAY by "Dr. Pakalns SELECT" for moisturizing mucous membrane in case of sore throat, hoarseness and irritating cough. It was something new for me. I immediately applied to test this product because there were already signs of a cold – sore throat and cough. I know from experience that Iceland moss is very valuable. When I suffer from sore throat and cough, I usually drink moss tea, which is very bitter and not tasty.
I used ICELAND MOSS SPRAY by spraying the product on the inflamed throat mucous membrane. The sensation was pleasant, because I did not feel the bitterness of the moss so much, but instead I felt the cooling effect of eucalyptus and menthol. The product formed a protective film on the throat mucous membrane, improving my health, treating sore throat, hoarseness and cough. Recovery was easier and faster. Wonderful product! Thank you!"
Marika, 30 years old - "I applied for testing the spray because I suffer from sore throat rather often and usually cannot shake off the disease. That's why products like these are important for me, and thanks to medicine.lv, I had already tried other medicines of this brand: "Easy Breathe" powders for making a hot drink and "Hypnosols Sleep Support" drops for faster falling asleep, experiencing positive results.
Once again, as soon as I felt inflammation under way, I immediately started using ICELAND MOSS SPRAY. I must say that it did the job well, because shortly after it was sprayed in the throat, the sensations became much bearable and irritating cough became infrequent. Although I am not a fan of how the product tastes, I can tolerate it for the sake of my health. It was rather easy to use the product: the bottle is small, so I can take it to work every day. Thank you, medicine.lv and Dr. Pakalns SELECT!"
Mārtiņš, 39 years old - "I decided to try the product on the recommendation of a colleague, and I am convinced that Iceland moss help against sore throat.
I really like the combination of dark green and white in the visual design. The package and bottle are small and do not take up much space, so the spray can be easily carried with you on a daily basis and it is easy to use the product thanks to the swivel nozzle. It is good that the product is not thick and is easy to spray. It has a pleasant aroma of menthol and eucalyptus. I used it several times a day when I had swollen tonsils (mostly after eating or drinking hot liquid). As a result, the sore pain and swelling in the tonsils was reduced. The spray also made breathing through the nose a little easier. Thank you!"
Laine, 25 years old - "I decided to apply for a product test because I have been suffering from a strong cough for the last three weeks. A friend of mine recommended trying the throat spray by Dr. Pakalns SELECT.
The packaging is small, so it is very handy – you can even put it in a cosmetic bag. It is also very simple to use the product. I felt the spray effect after only three days. There was no more itchy sensation in the throat, and I regained my voice. The only thing is that the product has a very specific taste, but after a few uses I already grew accustomed to the taste. :)) In general, I am very satisfied with the effect of this product and I recommend using it for the prevention of hoarseness. The price is also very customer-friendly."
Emma, 33 years old - "I wanted to try Dr. Pakalns SELECT spray for sore throat because I have always liked products that contain Iceland moss. I use it at the first signs of sore throat. So far I have successfully prevented further development of inflammation by using the spray at the first signs of sore throat as well as twice a week for preventive purposes. The taste is a bit bitter, but not unpleasant, and the aftertaste disappears quite quickly. The child did not like the spray as it was too bitter.
The packaging is handy, although I would like to see a slightly longer dispenser. I will definitely continue to use it during the winter, both prophylactically and in case of colds."
Aigars, 41 years old – "I applied to test the spray because I wanted to supplement my first aid kit at home with a natural product as such products always come in handy, especially in the winter season. Colds are a very common disease, so I wanted to take care of my health in advance.
I started using Dr. Pakalns Select only a week ago, when I had a cold that started with a sore throat. I immediately remembered about this product. I used it for about two or three days, and the discomfort in my throat disappeared, although I felt the relief already after the first use. I managed to stop the progression of the disease successfully, because I did the right things in time. It is easy to use the product. The taste is similar to most products of this type containing natural substances, but I liked the fact that the aftertaste was not so strong.
I don't usually pay much attention to packaging, to be honest, but I have to say that the visual design of products by Dr. Pakalns Select has been chosen successfully. Thanks!"
Kristaps, 28 years old - "I found out about the test of this product just when I had throat inflammation. I usually suffer from a severe type of inflammation where I even lose my voice, so I wanted to get ahead of it and immediately applied for the test. I took two packs – one for myself and the other for my mother (56 years old) who quite often suffers from common flu around this time; she used it for preventive purposes and was satisfied with both the taste and the ease of use of the product. In addition, my mom does not support medicines and supplements with chemicals, and instead she is a supporter of homeopathy and natural products. She has used the spray for two weeks and while many people in her workplace are sick now, she, thanks God, haven't caught any viruses.
As for myself, I am also very pleased with the effect of this product – I managed to keep throat inflammation at bay even after the first couple of uses and, on top of that, I avoided losing my voice, which is mostly inevitable. The duration of illness also seemed to be shorter than usual. Since I don't like to miss work, I took the spray with me in my shoulder bag every day; the bottle is small, so it didn't take up much space in the bag. I really didn't like the taste, but since I desire to recover faster and prevent disease from setting in, I can tolerate close to everything. Thank you for this opportunity."
Linda, 39 years old - "I applied to test Dr. Pakalns spray because a lot of colleagues in the office had a cold - coughing, sneezing, sniffing. I wanted to protect myself from the virus, and I also have a lot of work to do, so I don't have time to get sick. I have been using the product prophylactically for a little over 2 weeks, and the bottle is still not empty. I do have a runny nose, but I managed to prevent coughing and inflammation, probably thanks to the spray.
The taste was good, I liked its cooling effect. True, the spray is a bit bitter, but the taste quickly disappears. It was also easy to use the product, and I carried the spray in my handbag because the package is small. I recommend using the product both when you have a cold and when others are sick, to avoid falling ill. Thank you!"
Katrīna, 34 years old - "I applied to test the spray by "Dr. Pakalns SELECT" for moisturizing mucous membrane in case of sore throat, hoarseness and irritating cough, because me and my family usually suffer from these symptoms in December and January. The product caught my interest because it is natural with high-value ingredients.
The product has a tasteful design, just like other products made by this brand. I really like the dark green shades and the clear instructions allowing to learn when the product should be used.
I have to admit that the taste of the spray seemed a little specific at first - bitter. However, after a couple of uses I got used to it. The taste was overshadowed by the effect - the spray quickly reduced unpleasant sensations and it became easier to tolerate sore throat. After several uses, I noticed that the intensity of cough decreased, it became less dry. The spray by Dr. Pakalns allowed me to recover quickly and effectively. During the treatment I spent a lot of time sleeping and resting, drinking a lot of fluids, so I think all these factors, including the spray, helped. I believe that in case of a cold, it is best to restore health by using natural products and allowing the body to regain strength! Thanks for the opportunity! "

Reviews made in cooperation with medicine.lv